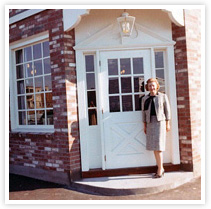 From Humble Beginnings...
In the fall of 1935 Evangeline Hasiotis (pictured at right) enrolled in a Fanny Farmer candy-making course in Boston. She completed the course, and then opened a very small candy store selling several types of chocolates in the same building as the family apartment in Manchester, N.H. Evangeline's store had no official name, and no significant signage—as was typical of local ethnic neighborhood life in that era.
From modest beginnings, her shop thrived, and in 1958 she bought property to move the store to the corner of Chestnut and Cedar Street. It was at this time Evangeline and coworkers sought an official name for the store. They came up with "Van Otis Chocolates" as a derivation of Evangeline's first and last name.
In 1959 Evangeline began the development of the now-legendary "Van Otis Swiss Fudge." Although it is often imitated, Van Otis Swiss Fudge is never equaled. Evangeline dedicated sixty years of her life to perfecting her chocolate—right up until the day she died in September 1995.
The Tradition Continues...
In November 1998 brothers-in-law David Quinn and Frank Bettencourt purchased Van Otis Chocolates. Following that first holiday season Dave and Frank found a new location: a larger store and production facility in Manchester on the corner of Vinton and South Willow Streets.
With visions of further expansion, Dave and Frank purchased the current Manchester location at 341 Elm Street and began conversion of the building to a retail store and large candy kitchen upstairs along with warehouse space in 2002.
In 2008, Van Otis Chocolates decided to consolidate all of its activities at the Elm Street facility. The same year, Quinn and Bettencourt retired and sold the local institution to local entrepreneur Marc Amiet, who is now the sole owner.
Van Otis Today
Van Otis has continued to grow its retail store while also expanding its wholesale and corporate gifting efforts. Many retail stores now feature Van Otis Chocolates as part of their retail offerings, and countless local companies treat their valued partners to gift baskets and other custom assortments created right here in Manchester.
To add to these offerings, in 2020 Van Otis Chocolates purchased the assets of Hutchinson's Candy, a New Hampshire staple since 1904. Van Otis is now producing the famous Hutchinson's Popcorn under its own "Evangeline's" brand and is selling it to retailers all over New England and beyond.
In May of 2021, in addition to its flagship retail and factory store in Manchester, Van Otis opened a new retail store in Wolfeboro, N.H., America's oldest summer resort.
The store immediately became a favorite of locals and visitors alike!
As generations of customers continue to make Van Otis part of their family traditions, we are always excited to welcome visitors new and old into our two shops!