At Van Otis Chocolates, we love to share all the pleasant memories that come with enjoying our tasty treats. Whether you're taking a tour of our factory and seeing what our chocolatiers accomplish behind the scenes, or enjoying a class to learn to make some of your favorite confections, our team is here to help share their love of food. To purchase tickets, please click here.
Our classes are as follows:
Adult Hand Rolled Truffle Class. Guests are welcomed into our chocolate factory where our Chocolatier will perform a demonstration of how to make a chocolate ganache. Participants will then be given a portion of a fresh ganache prepared earlier in the day, to roll into their own truffles! 5:30-6:30 PM on most Thursdays January through April 2020.
Private Group Classes. Choose from any of our currently offered classes or work with a chocolate consultant to create your own! Contact us for more information.
"We had such a great time and learned so much. We were fortunate to get Jessica for an instructor. She was not only very pleasant, she was extremely knowledgable. We are looking forward to attending more classes and events." - Tracy M.
Want a behind the scenes tour of Van Otis' candy factory? You can take a "behind closed doors" look at how we get all of those yummy things inside chocolate and try your hand at some of the candy making tasks. (And the nice part is if it doesn't turn out exactly right you can eat your mistakes.)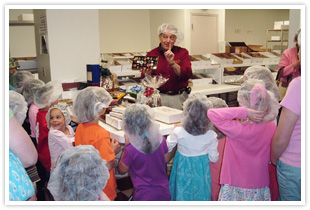 We can accommodate groups ranging from 10-25 people. Tours normally take an hour, but you will want to allow some time for browsing in our candy and gift store. Tours are appropriate for ages 8 and over.
Tours cost just $8.00 per person, which includes a fun candy making activity and of course, delicious samples!
Reservations are required for all tours year round.
At least 2 week's notice is required to schedule a tour.
Tours typically run Monday through Friday between 10am and 3pm.
Tour Restrictions:
We do not conduct Tours during special Holiday dates.
We do not accept walk-ins or same day calls for tours or classes.
Please give us a call at 603.627.1611 for more information and reservations or just fill out the form below.