Give the Perfect Business Gift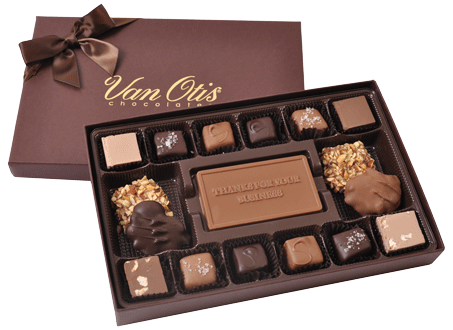 There is no better way to thank your clients, associates and business partners, than with a delicious and memorable gift from Van Otis Chocolates, New Hampshire's premier chocolatier since 1935! We offer awide selection of standard and custom gifts for any budget. Any of our gifts can be branded to your liking.
From custom logo bars to custom printed labels and boxes, we offer a large variety of attractive branding options. Need your order drop shipped with a personal message? It's easy, we will be happy to take care of all your delivery needs!
Sweeten Your Events:)
Are you looking for a unique give-away or are you preparing for a trade show, sales meeting, or other business function? Show your appreciation and get your marketing message across with our custom printed chocolate bars, popsicles, coins and other branded treats.
Contact us to discuss great business gift ideas for any occasion and any budget!
Please call Customer Service at 603.627.1611 or fill out the form below.
Helpful Links for Business Gifts
Year Round Business Gift Guide
Year Round Corporate Discounts & Shipping Guide
Holiday Gift Guide
Corporate Discounts & Shipping
Favor Flyer
"Van Otis is my go-to place for special gifts. They never disappoint. For my clients, my colleagues, friends and family!"
-Cathy Gagnon, St. Mary's Bank
"Our first experience with ordering corporate holiday gifts from Van Otis Chocolates was superior. Not only did we find lovely gifts in our price range, but the customer service made shipping to multiple locations easy and stress-free."
-Jackie Doyle, Akumina Inc.
"We used Van Otis for our annual holiday party this year and the chocolates were a huge success. Our staff truly enjoyed the
offerings and we look forward to working with Van Otis again!"
-Cynthia McCormick, Members First Credit Union
"Those boxes of chocolates have landed and been consumed! Word on the street is "they didn't stand a chance"! You guys were great to work with and look forward to using our mold again."
- Dru Bussiere, Marketing Programs Specialist, LAARS Heating Systems
"Thank you again for everything that you have been doing for us here! You guys have done such a fabulous job with everything!"
- Christina Cassella, Campus Compact
"Thank you for the pleasure of meeting with me this afternoon. It was most productive and delicious!"
- Roger Maurier, Stewart Title Guaranty Co.
"Wonderful! Thank you all so much for your support, we at Reliable Equipment appreciate the exceptional customer service we always receive each year we place our order."
- Jenn Astbury, Reliable Equipment LLC
"These gifts are the nicest I have seen. We will start shipping tomorrow and I'm sure our clients will be thrilled. You have been awesome to work with and I appreciate the great customer service."
- Karen Lepine, Printers Square
"The Sweet Taste of New Hampshire gift basket was perfect. We give it to a coworker who was visiting from AZ and it had a great selection of food items made in NH. The staff was very friendly when I called and placed the order."
- Jennifer T., Company Confidential